Everything You Need To Know About Skincare Before And After Tattoo Removal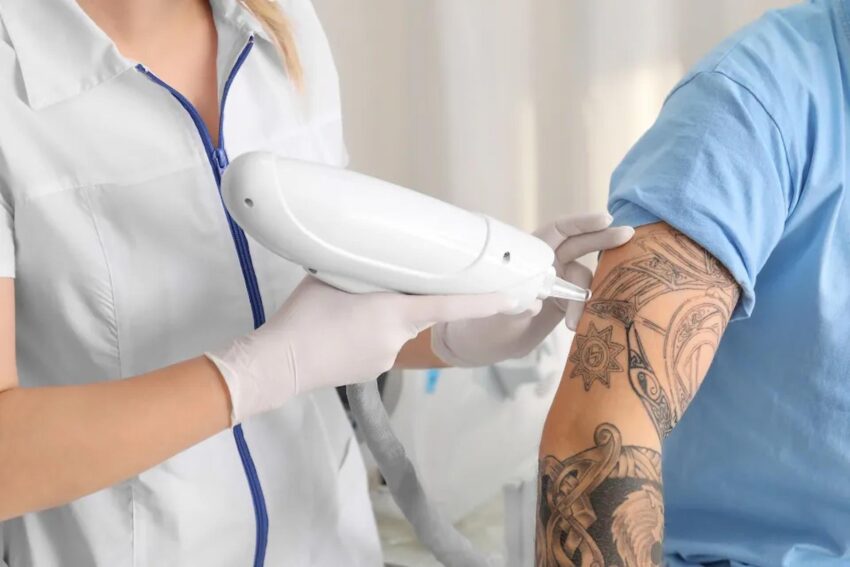 It will come as no surprise that the more you irritate the skin before and after a tattoo removal treatment, the greater the risk of being left with scars and scabs. But what should clients do to minimise the risk of scarring, and are there specific treatments and products that should be used to optimise the results from your tattoo removal session?
In this blog, we're taking a deep dive into the skincare specifics of tattoo removal. But before you arrive at our tattoo removal London studio, there are a few things you need to know – starting with the importance of skincare straight after you get a tattoo, all the way through to the after-care process of our Cynosure Picosure treatments.
Skincare After You Get A Tattoo
It's easy after getting a tattoo (and particularly one that you don't like, regret, or are left unimpressed by), to simply pretend it's not there. If the tattoo happens to be on a part of your body that you don't regularly see, you may well find that you don't notice any redness or dry skin. However, regardless of how you feel about the tattoo, a good skincare routine is integral to protecting the skin and ensuring that, when you can get it removed, your skin remains as unmarked as possible.
This includes keeping the tattoo wrapped immediately after application and then cleaning it with lukewarm water before applying liberal amounts of moisturiser a few times a day for the first few weeks. Tattoo removal cannot be considered until the area around the tattoo is completely healed.
Prepping The Skin For Tattoo Removal
Here at Tattoo Removal Experts, we use Cynosure Picosure technology to deliver effective and efficient results which cause the least amount of damage to the skin. While this technology and the quality of the laser should mean that there is no lasting damage or scarring on the skin, the effectiveness of treatment is dictated by how well you follow our aftercare advice.
We advise all clients who approach us for treatment, to ensure that they are well hydrated before tattoo removal and that they inform us of any sensitivity around the tattoo site in advance.
Aftercare And How To Keep Your Skin In Good Condition Following Tattoo Removal
The number of sessions required to remove your tattoo will vary based on the size of the tattoo and the colours integrated into the design. Most tattoos can be removed within six treatments however we will advise on this in your initial consultation.
After each treatment session, it is important to look after and moisturise the skin. This includes staying hydrated, keeping skin out of direct sunlight, and stopping yourself from picking at or scratching the affected and treated area.
Your tattoo removal specialist will highlight all of this information and more during each session and will be able to answer any questions you may have as well.